Handyman Business for Sale in Australia - Fantastic Services
Full training and support
No annual or monthly fees
Booked jobs from day one
Guaranteed, no-risk investment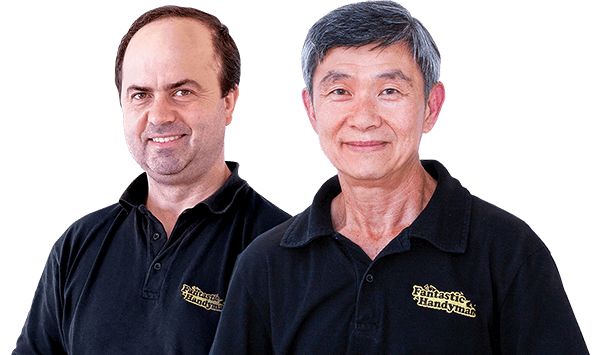 Handyman Franchise
Owning a handyman franchise business under a recognisable brand will give you a headstart against the local sole traders' competition. You will have access to our effective franchise model tools, which will help you get established fast in your area and start earning from day one.
Whatever your niche of handyman expertise, you can count on our assistance with upgrading your qualifications and this way, develop your business potential.
The Handyman Franchise Package
Be our handyman franchise partner in Melbourne, Sydney, Perth or Brisbane!

1-man & a van
Services Inculded:
Odd Jobs
Electrical Jobs
Plumbing
GET IN TOUCH
Our franchise price includes the following and more
When you become a Fantastic Handyman franchise owner, you will immediately experience our full support from the very start. We'll ensure that you pass through all our Fantastic Academy training courses, which are designed to enhance your sales and customer service skills. And if you require assistance with getting a vehicle or upgrading your tools and equipment, our team of consultants will be ready to help.
The package price also includes brand exposure materials, marketing merchandise and access to promotional campaigns. You will find that working side by side with an established name in this service sector promotes a steady weekly turnover and secure earnings.
And that's not all! We will book jobs for you, according to your availability, location and expertise, so you will have more time to invest on perfecting your service delivery and growing your business.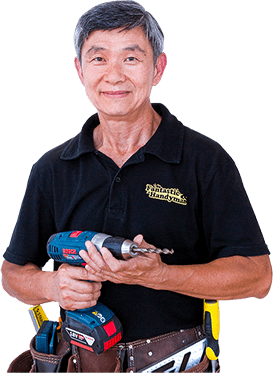 Our Handyman Franchise Opportunities for You
When you partner with us, you will invest in a franchise package, which includes various service options and a great scope for business development. Depending on the skills and qualifications you have, you can start and grow your business in a specific area of property maintenance expertise or provide all-round handyman services. Check out our handyman franchise opportunities below.
Handyman
Experience on the job, a Year 10 Certificate or Certificate I are often sufficient to develop a career in the general property maintenance field. Our handyman services include small fixes and repairs, property renovation, painting, floor repair and installation, wall-mounting and hanging, furniture assembly and any other odd jobs around the property. You will be expected to obtain all specialised tools and equipment, in order to provide our handyman solutions.
Plumber
If you are an experienced and qualified plumber who has the tools and skills to perform plumbing repairs and installation tasks, we want to hear from you. The Fantastic plumbers benefit from guaranteed jobs and secure earnings in all our locations in Australia.
Electrician
We welcome all fully trained, experienced and certified electricians (Certificate III/IV) to join our franchise program. To perform our electrical services (electrical installations and repairs), you will be required to go through all the relevant registration and licensing processes.
Carpenter
We offer bespoke carpentry and woodwork installation services to both residential and business clients. To join our team of franchisees, you will be expected to have a Certificate III/IV in carpentry, on-the-job experience through an apprenticeship and of course, all the appropriate tools and equipment.
The handyman franchise is suitable for:
Owners of handyman businesses
If you provide handyman, plumbing, electrical or carpentry services as a sole trader or you own a company in this industry sector, investing in a franchise partnership with us will be more than beneficial for your business. We offer a 5-year franchise contract, which will secure your earnings through a well-developed job booking process and a full sales, marketing and IT support.
Tradesmen with experience, interested in owning a business
We are looking for experienced tradespeople and multi-skilled handypersons (preferably certified) who want to succeed in their trade as proud franchise business owners. We can assist you with upgrading your level of certification and expanding your equipment and tools line. With us, you will enjoy a guaranteed return on your investment and a prosperous future.
To own a handyman franchise business with us, you:
Should meet our franchisee requirements
Are certified technician in a particular field
Must have experience and a good level of expertise
Need relevant equipment and a suitable vehicle
Are willing to attend additional training courses
Agree to follow our service standards & procedures
Should be committed to expanding your business
Will strive to deliver excellent customer experience
Please, contact us for more details about documents, vehicle and equipment!
Happy to become our handyman franchise partner?
Our Fantastic Franchisees' Success Stories
Here's what our franchisees have to say about owning a business under the Fantastic brand.
Matt, Cleaning Franchise
Melbourne 2014 to present
"Three years back, I basically started from scratch. Today I've got six people work for me every day, six days a week. I do now more managing stuff. That's basically what I first envisioned before I joined it and that's exactly what happened."
Read the full story here.
Other Franchise Opportunities
Below are the rest of our franchise business opportunities:
About Fantastic Handyman
Part of Fantastic Services Group
The company's branch - Fantastic Handyman - launched in Australia in 2015. Our aim is to provide high-quality home improvement and property maintenance services to both domestic and commercial customers in Melbourne, Sydney, Perth and Brisbane. We are currently actively recruiting handyman franchise partners in all the above locations.
Our handyman franchise program attracts certified, experienced and motivated tradesmen with an entrepreneurial spirit who want to practise their skills independently while operating a secure franchise business in their field of expertise. By following the company's high-standard code of practice, they enjoy a wide, growing client base and fast return on their investment.
Melbourne
Brisbane
Sydney
Perth
Find out how to start up your handyman franchise business