How to Become a Handyman in Australia
The ins and outs of starting your own handyman business!
August 24, 2018
The last couple of years have been an absolute success for Australian businesses. It's become more and more easier for small companies to break through. That's why the home services industry is booming down here!
People are too busy with family, work and social life, they have little to no time to maintain, repair and renovate their own homes. Which creates a high demand for professional workers and a perfect setting to start a handyman business.
No matter if you're self-taught or have passed a course if you are handy and capable of working with different tools, you can make a great living as a handyman.
The truth is, people need help with fixing things around their home. If you're someone who enjoys doing just that, maybe you should commercialise it.
Starting your very own business is a great way to make money out of what you're good at.
Table of Contents
Types of Handyman Services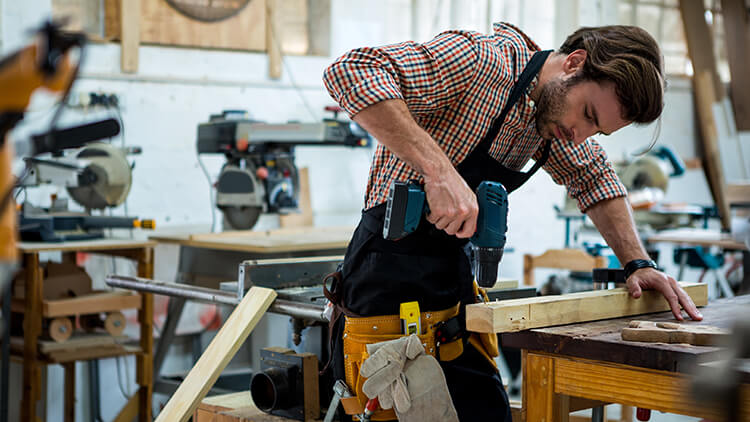 Just like any home service business, handymen provide a set of different services. There are boundaries to what is considered a handyman service, and what exceeds the abilities of a handyman and instead crosses into a builder field.
We can say that the handyman services fall into two general categories. Ones are services that improve the home of the owner, the other type is services that maintain and keep the building in good condition.
Of course, there are also other, more niche jobs. These include plumbing, electricity-related jobs and dealing with appliances like washing machines and dryers.
Home Repairs
Sooner or later everyone has to repair things around their home. Handymen do everything from simple door repairs to painting all the rooms in the house.
The jobs you'll be undertaking depend on your level of experience. Painting and simple wall repairs are fairly easy to master and are quite common.
Door repairs may require a bit more experience, but the simple door replacement and removing are again fairly simple jobs.
Repairs are usually medium difficulty jobs, so as a handyman you should know how to complete these basic services.
Home repair jobs can include:
Furniture assembly
Door repairs
Wall repairs
Fence repairs
Curtain/Blind repairs
Painting
Other odd jobs
License needed: No
Home Maintenance
Keeping your home in good condition requires you to constantly maintain things around the house. Regular inspections of your HVAC units, gutter maintenance and other related repairs can also be done by a handyman.
People also hire handymen to inspect their homes when they suspect there's something wrong. These jobs aren't the easiest because you should be able to identify the faults and damages and offer a professional solution to the homeowners. 
Many people will have their home checked before the winter and summer seasons start.
Home maintenance jobs can include:
Gutter maintenance
Door inspections
Window inspections
Wood rot inspections
Floor inspections
Thorough home inspections
License needed: No
Home Installations
As a handyman, you'll have to install devices and variety of different objects around the homes of your clients. Often installation jobs are fairly easy.
Keep in mind that installation services don't include working with electricity.
Home installations jobs can include:
TV installation
Blind and curtains installation
Picture hanging
Mirror hanging
License needed: No
Electrical Jobs
While doing repairs and maintenance jobs don't require a special training, to work as an electrician you need both training and a license.
We advise you go through an electrician course, as dealing with this type of work can easily result in injury or property damage.
Electrical jobs can include:
Light fixtures
Rewiring
Outlet installation
Light switch installation
Appliance repairs
License needed: Depending on the type of the job you will need different electrician license. Read more about the electrical licenses here.
Plumbing
Plumbing can be a great addition to the services you provide. Most of the things that you'll have to fix are clogged drains but keep in mind it may get way more complicated than that.
Plumbing is a delicate job and you will have to know what you're doing when you decide to provide plumbing services.
Plumbing jobs can include:
Unblocking toilets
Sink installation
Toilet repairs and installation
Repairing leaking pipes
Unclogging drains
Shower installation
Faucet installation
License needed: Depending on the type of the job you will need a different plumbing license. More about the plumbing licenses here.
Carpentry
As a handyman, carpentry work will mostly consist of wood cutting and installation, as well as any other type of measuring and cutting.
Carpentry jobs can include:
Window repairs
Fitting carpentry door handles
Woodwork replacements
Fitting door handles and spyholes
Installing pet doors and mailboxes
Cabinet and shelf installation
Floor restoration
Other odd jobs
License needed: No
Handyman Salary in Australia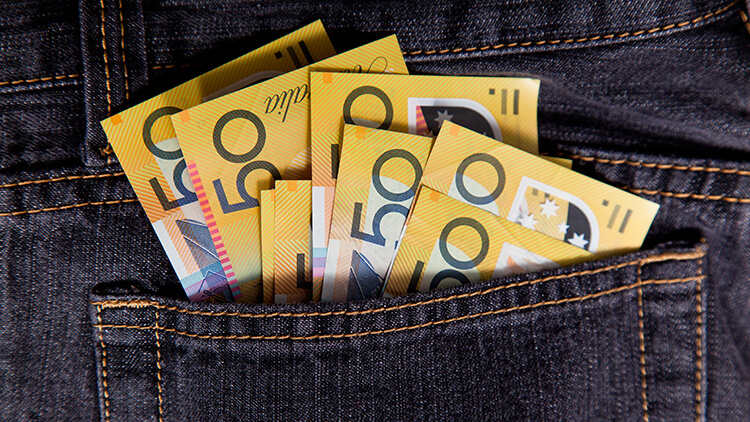 Your salary depends on the types of services you provide, your expertise, your location and availability. So the numbers might greatly differ from expert to expert.
Handyman Salary
The hourly rate of a handyman in Australia varies between AU$19.83 – AU$45.60.
The annual salary of a handyman is between AU$39,675 – AU$80,679.
More information on PayScale's website.
Electrician Salary
The hourly rate for electricians in Australia is AU$20.46 – AU$42.80.
The annual salary is AU$37,870 – AU$103,872.
More information on PayScale's website.
Plumber Salary
The hourly rate for an Australian plumber is AU$19.74 – AU$40.89.
The annual salary is around AU$31,175 – AU$87,787.
More information on PayScale's website.
Carpenter Salary
The hourly rate of carpenters in Australia varies between AU$20.33 – AU$44.29.
The annual salary is around AU$34,289 – AU$84,306.
More information on PayScale's website.
Cost of Starting a Handyman Business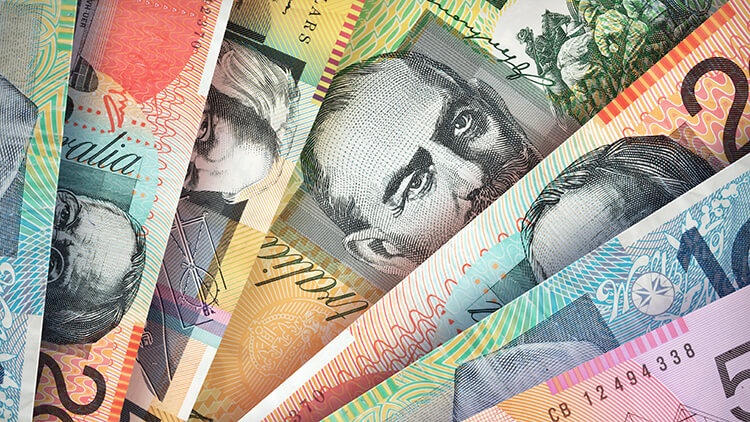 You can't make a good profit without a bit of investment. Most of the money will go toward acquiring the proper tools, however, there are small business setup fees as well. Below you can see example costs. We have a separate blog post about the cost of starting a business in Australia if you want to dive into the topic further.
Registration Fees
Just like the beginning of any venture, starting a handyman business costs money. Fortunately, you'll just need to register as a sole trader or a company (which costs money, more info here), and obtain a free of cost ABN (Australian Business Number).
License Cost
It's not required to have a license to work as a handyman. However, if you've chosen to offer a specific kind of services, the fees for obtaining some needed licenses are as follow:
Electrician: Acquiring an electrician license will cost you anywhere from A$400 to A$600 for a five year period. The renewal of these licenses is about half of that price. The amount varies depending on the type of license. More about all electrician licenses can be seen on the official government website.
Plumber: For a plumbing-related license it will cost your somewhere between A$600 to A$900 including fees. You can see more on the Commerce Government Website.
Tools and Vehicle Cost
Of course, as a handyman, you'll need a vehicle to travel between jobs. It's also a place to store your tools.
Investing in good tools will set you back around A$1,000 – A$1,500. But that price tag shouldn't scare you off. The higher the quality, the longer the tools will serve you. With time, you'll keep seeing the return of this initial investment. 
The price of the vehicle will vary depending on its type and on that if it's new or used. The price starts up from A$1000.
Must-Have Tools for Handyman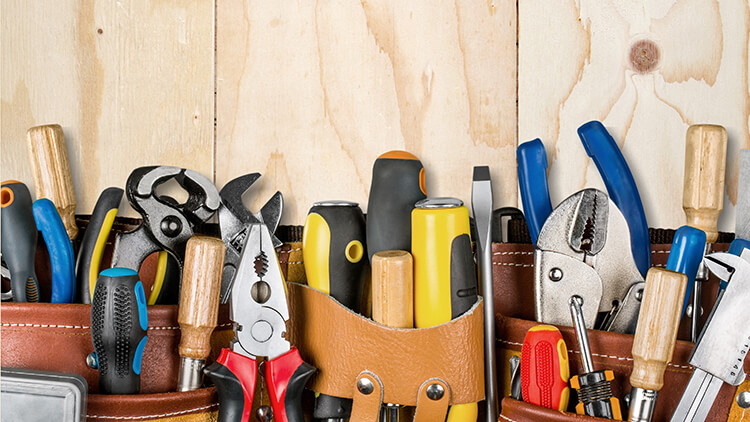 As a new business, you don't have funds to spend around on the wrong equipment. While the tool investment is small compared to the machinery cleaning and gardening businesses need, you'd want to put your money on the proper tools.
Here's a list of the tools you're going to need when you start. Of course, depending on how your business will grow and develop, you'll have to buy new and specialised instruments.
Hammer Drill
Hammer
Ladder
Screwdriver
Allen-key set
Screwdriver Bits
Drill bits
Screws, nails, rawl plugs
Pliers
Paint brushes and rollers
Wrenches
As we mentioned above, you'd want to invest in higher quality tools, as you will work with them daily. Cutting costs in tools can be bad, as depending on the tool, it may damage customer property.
Not to mention that the life of cheaper tools is much shorter, so you'll be looking at buying a new set of tools soon after you start your business.
Handyman Training and Licenses in Australia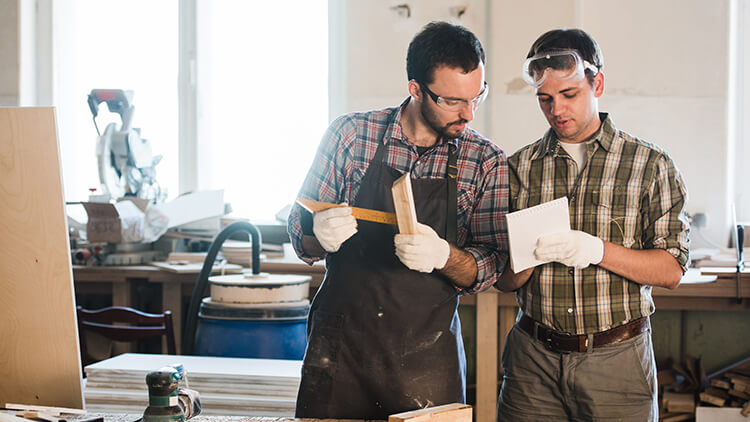 The meaning of the word 'handyman' is someone that is capable of fixing numerous things, usually around the house.
However, being a skilful handyman isn't enough. When you're starting a handyman service business, you have to be business savvy as well. 
Things like marketing, customer service, accounting and even figuring out how to charge for your services is of utmost importance. 
Outside of that, being a handyman requires knowledge and understanding of how a home is built and how you can work on a home.
Some important skills are knowing how to work with power tools, a basic understanding of electricity and plumbing,
One of the best things is that you can practice around your own house and learn new things!
Training to Become a Handyman
The training highly depends on where you live, what you would like to offer as services and the experience level you want to reach.
Therefore, there isn't a single training/book/source that will prepare you for your specific wants and needs.
Obtaining professional licenses like plumbing and electrician ones add skill to your portfolio, which will definitely help you earn more.
Handyman License
To perform basic handyman services in Australia you don't need any special certificates. In all of Australia, you'll need to have an ABN, register as a business with the proper business structure and have the right insurance.
The ABN is used for tax purposes. Applying for an ABN is totally free and can be done straight from the Australian Business' website. 
If you're looking forward to offering more complex and specialised services like plumbing and electricity work you'll have to obtain the needed licenses. More about Certificate III in Electrotechnology Electrician here and for Certificate III in Plumbing here.
How to Charge for Handyman Jobs

Any business needs to make money in order to survive. But, as a newly started handyman business how do you know what to charge?
While deciding a price is as easy as thinking of a number, you'll have to keep in mind the market, your competitors and the type of service you're charging. 
The easiest way is to research what your direct competitors are charging and adjust your price to that. Your direct competitors are the once that have businesses similar to yours by size and services.
I.e. If you're working alone, you shouldn't compare your prices to the big home service providers. Instead, focus on local one-man businesses that are in your niche and find out what they charge. 
From there you will have the competitive edge of pricing your services and finding out how you can make them better.
Buying a Handyman Franchise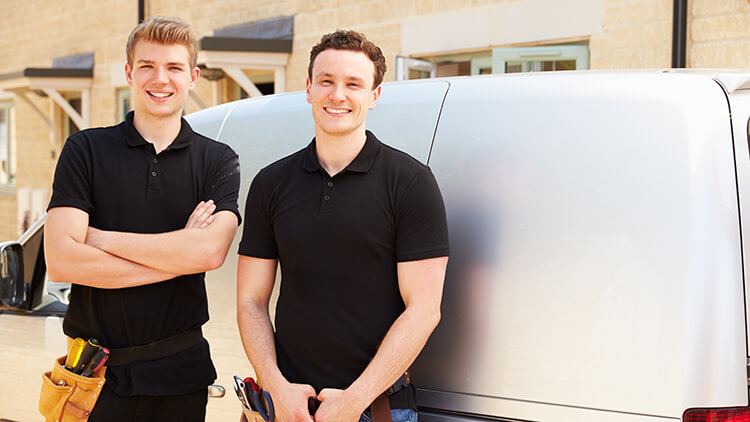 But, maybe you want to be in the game with the big businesses. Well, there definitely are numerous benefits to buying a franchise instead of doing it on your own.
Most new franchise businesses have a competitive edge even over already established businesses. Small and medium businesses often don't have the budget to spend money on marketing, fancy websites or even about higher-quality training and service delivery. 
If you think that buying a franchise and growing your own business with the help of an already developed brand, then check out what Fantastic Services Australia provide.